| | | |
| --- | --- | --- |
| March 19th – 23rd of 2023 | TAKAMI KAWAI | @RÉCIF – 29 rue decrès, 75014 Paris, Metro Plaisance |
Takami Kawai, Japanese master carpenter at Suikoushya is going to teach a 5-day intensive carpentry workshop at RECIF in Paris, Montparnasse.
This  workshop will be organized in 2 parts:
---
Intro. Japanese Woodworking Tools, adjusting and sharpening – 2 Day
s
Making Japanese Joinery – 3 Days
---
Language: English with a French translator.
Duration: 50 hours. 10h/day
 Max.
Number of students: 9
Tuition Fee: 1.440€ Registration Fee: 50€
Tool set is not included in the fee.
Please read the course informations and conditions before applying.
COURSE IS FULL 
Takami Kawai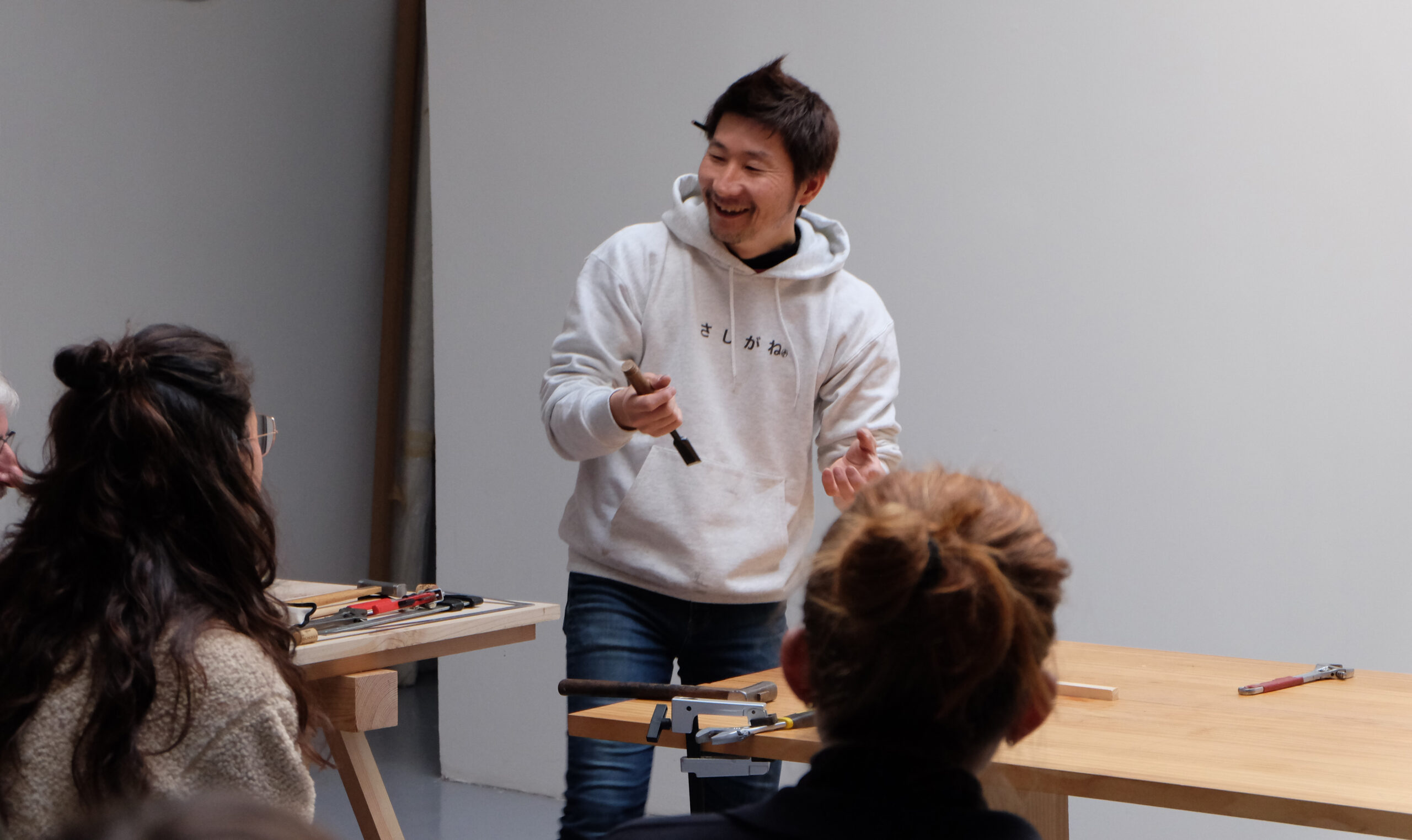 Takami Kawai, a master in traditional Japanese carpentry who repairs shrines and renovates traditional wooden houses. In addition to that he holds woodworking classes around the world where he shares his mastery in fine woodworking. He also organizes solo exhibitions about wooden joinery.
Takami decided to become a carpenter at the age of 10, thanks to the influence of his great-grandfather Kanjiro Kawai, who was a potter and artist. In Miyama-cho, Kyoto, known as "Kayabuki no Sato", he started a carpenter's apprenticeship to protect the original scenery of old Japan. After several years of practice, in 2018 he launched a crowdfunding campaign to create a Japanese woodworking school that is taught in English. With the support from people around the world, he founded Suikoushya, a woodworking school in Kyoto,  Japan. From where he shares the best woodworking techniques with people from around the world.
Informations and Conditions
In this workshop you will learn intensively about traditional Japanese woodworking. It will be taught directly by an active Japanese carpenter. By learning about Japanese traditional woodworking with Takami Kawai, you can discover the charms and depth of the Japanese woodworking culture. With these attained skills, working with wood becomes an endless possibility.
The course is from 9am to 5pm, with a lunch break from 1pm to 2pm. Students are free to use the workshop from 8am until 8pm, under the condition of avoiding noisy activities (hammering chisels mostly).
Students are responsible for their lunch and stay in Paris, and are requested to arrive on time.
The course will be in English, and an assistant will be around to help with organization and translation.
Cancellation policy: 
Registration fee is 50€ and cannot be refunded.
More than 30 days before the workshop starts, 50% of tuition fee
30 to 15 days before the workshop starts, refund : 50% of tuition fee
Less than 15 days before the workshop starts (March 4 included), no refund possible.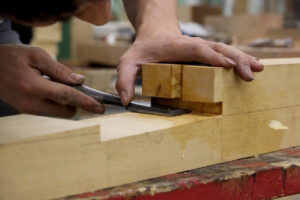 What to expect from this course
This is a very unique opportunity as Takami Kawai is usually giving classes in Japan, and they are all booked until 2024. There is no other Japanese master carpenter giving class in English. You are given exclusive knowledge and experience from a carpenter who restored a shinto shrine for more than 3 years.
You will learn to set up and sharpen your chisel, as in Japanese carpentry the tools are sold 90% ready, and the rest of setting up is expected from the carpenter. This sharpening technique will give you confidence in all your sharpening steps in the future
You will learn to adjust the kanna (japanese handplane) and use it to make the proper thin shavings required in Japanese carpentry. Prepare to blow your own mind!
Under the careful supervision of Takami, you will process your own Japanese joinery exercise, getting your first dive into the demanding world of the most elaborate carpentry in the world.
As Takami likes to say, "enjoy life, enjoy woodworking!"